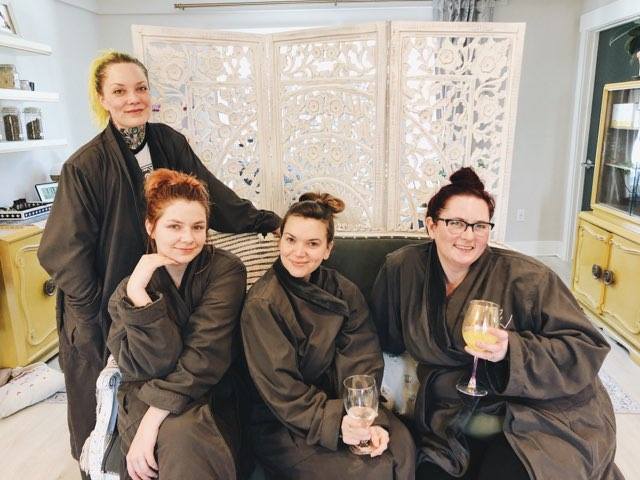 After surviving the snowpocalypse and ice storm 2019 these betties were ready for some pampering and relaxation. So the Mod B Betties took over Wanderlux Beauty & Wellness Co.!
If you have not checked this amazing little gem out yet, book yourself a service, STAT! When you walk in to this gorgeous space, your senses are tickled by all of the glorious fragrances of relaxation. The fireplace, velvet curtains, and ornate gold mirrors create an atmosphere of pure comfort. Jessica Geerling has created a beautiful space for female wellness.
We each received three of their signature services, Zenned Out Stress Relief Treatment, Sister Yoni Steam, and the Infrared Sauna Session.
The Zenned Out Stress Relief Treatment is 60 minutes of full body bliss. Madelyn and Julie provided us with a mini facial, foot and calf treatment, arm and hand massage, and neck, shoulder and scalp massage! All relaxation treatment performed with essential oils, heat therapy, massage and natural & organic facial products. Hayley said it all, this beauty walked out of her massage, skin a glow, "I feel like a new woman."
The Infrared Sauna Session is a full spectrum infrared sauna. The each color promotes different types of healing. We chose indigo, which helps alleviate chronic pain. The warmth seems to inspires people. The notebook inside the sauna is full of poems, stories and inspiration from the amazing women who have sat in here. Creating a kind of sisterhood.
Speaking of sisterhood, the service I'm sure you're all the MOST interested in, Sister Yoni Steam.
Becky is Certified Reiki Practitioner, Certified Vaginal Steam Facilitator, Postpartum and Well-Woman Healer and Doula, and Certified Lactation Counselor! This bettie has it all. Becky walked us through the history and process of this holistic ancient & sacred women's wellness ritual in which a woman allows the warmth of herbal steam to permeate the exterior of her vagina. While our vagina teas was steeping, Becky lead us through a beautiful, relaxing and healing session with a card reading and energy healing. Our goddess cards were SPOT ON! Then were began our yoni steamed. Wrapped up in the most luscious blanket and eye mask, we melted into the experience!